Entir: A mobile app that helps manage your health records
My journey making a user-centric mobile app from scratch.
*You can also find this article on Medium
I wanted to work on a project that could help to positively impact people's lives. Also, having myself "managed" a chronic condition throughout my life, and moving from one country to another, many of my health records were lost and my health information became inaccessible. I lacked ownsership of my health records and a comprehensive view of my personal health history, something that I could have strongly leveraged to gain insights and manage my health condition. During our research, as I talked with people I realized all of them faced challenges of some sort.
In some cases, people were having issues accessing their records from another country, others needed certain data like immunization records for travel and were experiencing difficulties obtaining them. Some were overwhelmed and wanted help managing an elderly parent's health information.
Potential challenge
We started with the hypothesis that in the US (and potentially in the world), people aren't enabled to own their medical records throughout their lifetime; and that they lack a comprehensive health picture of their medical records and activity history.
For context: in the US, if you visit a Primary Care Physician in a hospital, your information, i.e., treatment records will stay in that hospital. If you decide to see a different doctor in a different hospital, it is likely that your medical data and records will not transfer: sometimes the systems will not talk to each other, and a patient's information becomes inaccessible. Sometimes medical offices aren't equipped with the technology. Ultimately, the data and records keeping and maitenance burden falls on the patient.
It is a heavy administrative and cognitive burden that many patients must carry by not having immediate and complete access to their health activity and information. Many patients can answer questions about their recent history, but they have limited insights into life-long history.
Potential Solution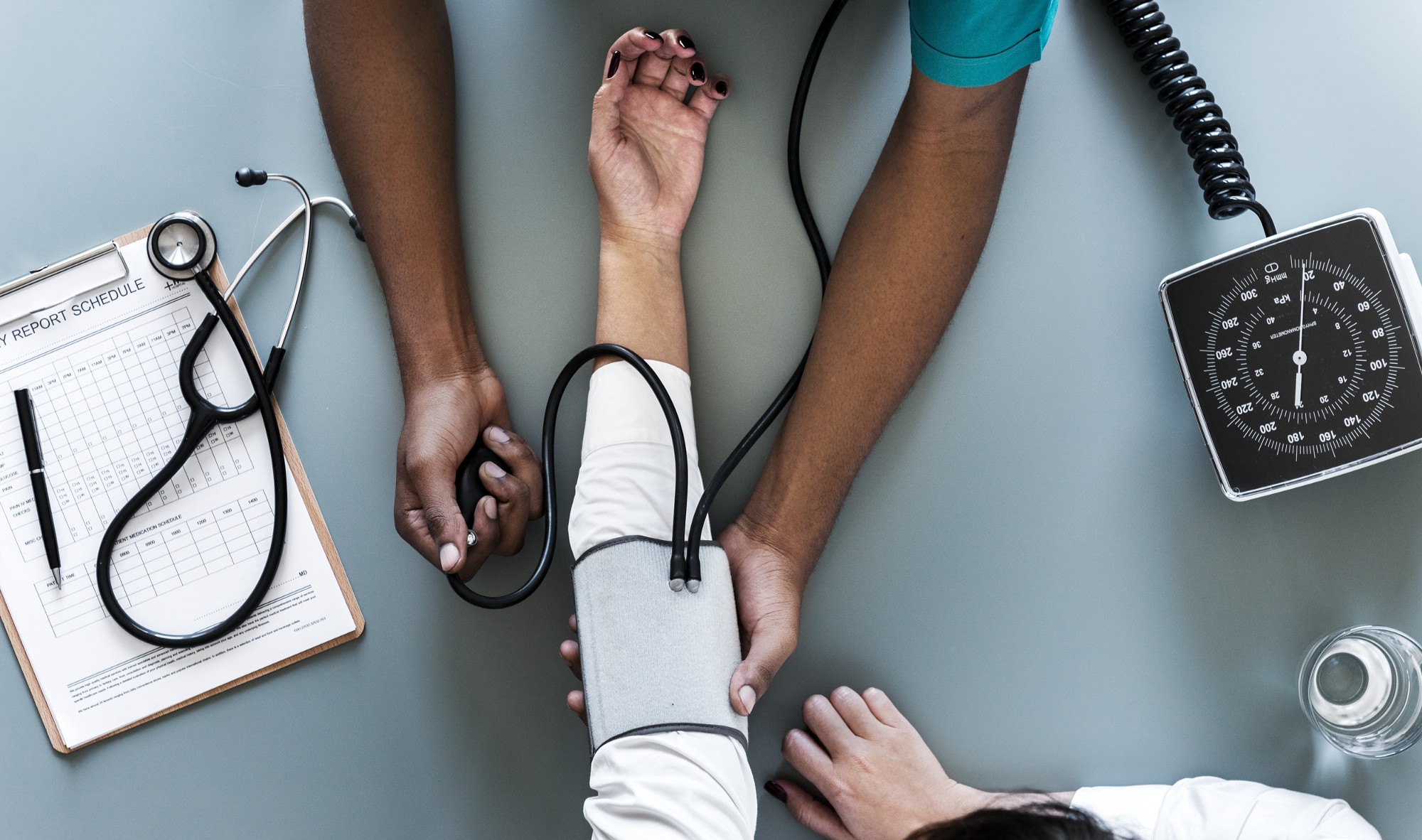 "an application that could enable individual ownership of medical data and records, keeping a person's hospital & doctor activity chronologically throughout their lifetime."
By hospital & doctor activity we mean: listing and presenting all hospitals visited, prescriptions taken, doctor visits, treatment plans, diagnosis, vaccinations, and lab work. Real-time access to the latest hospital, lab, physician, and manually- added health information notes. Presenting people their entire life's health information and activity; all packaged in a seamless, minimalist interface.
Panning for gold — need finding through surveys and interviews
It's a fair comparison, at least that is how it felt to me. Sometimes respondents wouldn't say much, but sometimes we get a glimpse into their personal and very particular situation and the challenges they face; and that's where the real value is…continuously asking, how can we help them overcome their particular challenges?
We planned and conducted an online survey, phone/online interviews to learn more about how people manage their medical information, existing concerns, "moments of joy/delight", and challenges they faced. We defined what information we wanted to learn from participants. I drafted a set of questions and used Typeform to conduct the survey.
One of the challenges I faced was getting people to fill out the survey, and even more important, to have a variety of participants (not only my certification peers.) I decided to post my survey on facebook and instagram, which yielded fewer respondents than I hoped for. After searching for a few options, I decided to post the survey in Reddit, and with a little guidance from channel managers I was able to post the survey in the right channel, which yielded more responses.
The Survey Speaks…
From our survey results, we learned that respondents (33 total, of which 53% were females, most respondents were between the ages of 31–40) tend not to check their medical records, some reasons are: few visits to doctor, that their medical office does not offer an online service, or it's too difficult or not engaging enough to access. Here's what they said:
40% of our 33 respondents had zero to one medical visits per year

35% had used an online platform to acces their medical records

What they liked most about online health platform: convenience, what they liked least: look and feel

Records usually managed or tracked: Medical visits, lab results, vaccines and prescriptions

How do people keep their records: 35% hard copy, 29% don't keep them, 24% use a digital app
Survey participants were asked what they like or dislike about the way they currently manage their personal health records, they said…
"I can't remember where they [health records] are, I think at my parents house. It's not a good system."

"I like the concept of keeping medical records accessible in a mobile app where I can download in case I switch providers. I do not have my medical records from the first 22 years of my life because they were not easy to access, and I have a serious undiagnosed issue that would be great to explain with testing results and doc notes, but I would have to call those providers which is inconvenient."

"It's hard to keep track of all of my physical papers, but some of them are from before the days of online portals, and I haven't taken the time to scan them in."

"I'm pretty organized with my records … I like the fact that if I'm at home I can easily access them. But I'd love to bring at least some of them with me, everyday. I suffer from diverse and severe food allergies that have to be monitored on a daily basis. The test record is quite long and I cannot bring it with me all the time."

"Privacy concerns, transferring data from one doctor to another, crappy experience online"
❤ listening to people: face to face chats
I got to listen to participants' challenges, frustrations, gaps, moments of joy, and their future vision of the topic. People were very sensitive at times about their roadblocks, because the information is so personal. It is key to be a good listener, to have empathy, and be curious.
I facilitated a welcoming session for participants, and put together an interview script that would allow participants to share more about their behaviors without leading them. Listening, pausing, and allowing participants to speak and probing them when needed. Also checking myself to make sure that I was staying impartial and neutral.
Here's what in-person interviewees were saying:
At the end of the questions, the interviewees were also asked for future- looking perspectives: how will health information management and apps will look in 10 years? Answers ranged from gamification, to fully-digital interactions, to sensors that live in cups or toilets tracking the latest data from their users.
What I personally learned as I conducted interviews
Coming from a visual design background I understand the importance of a well layed-out interface, but a customer centric approach — that is the strongest foundation to build upon.
It is trully valuable and healthy to take the time to talk with users because you get a closer look at people's experiences of joy, frustration, and sentiment on the topic. Without talking to customers, the product is built completely on assumptions, which will end up causing waste.
Word of advice before conducting user interviews
I learned the importance of knowing your tools and deciding which tools work best for what. For example, it can be overrated to video chat (I experienced technical isssues from both my end and my interviewee's end), a regular phone call with a recording app would have worked just fine to get what I needed.
It is also good to respect the interviewee's time: arrive and end on time, being prepared by having an alternate path to communicate in case the technology malfunctions.

Always record your interviews, it's good to hear each participant's voice and lingo, it can help when building personas, additionally it is more reassuring to have a recording than relying solely on notes. You can record with Google hangouts and Youtube (at first, it can take some time to set-up and I highly recommend a practice run). If you are doing a regular phone call, ACR is a free call recorder for Android that does the job.
It was very helpful to define the what I wanted to learn from my interviewees by drafting a script with non-leading, probing questions.
Competitive Assessment
We put together a competitive assessment of existing health information and health data management products (that were used by our survey respondents) with the goal to better understand what offerings are already out there and their features. We made inventory of each product to learn features in detail.
Link to Competitive assessment brief. Comparing 5 health related applications.
Assembling Personas
From talking to people, we stitched together three potential personas: Chris the Traveling Consultant, Stella the College Student and Freelancer, and Mary the Working Mama Bear. I kept going back to my interview notes and survey data to search for challenges and goals, I started matching them up, and personas started to come together. In a nutshell, here they are:
Chris the traveling consultant
A type A personality who wants his information seamlessly accessible "yesterday" and is a fan of good health, stats, tracking and tech trends. He is always on the move and needs quick and easy access to his health data.
Stella the Student and Freelancer
She's a busy student/freelancer who switched to Obamacare, and switched Doctors too. She visits different doctors depending on her coverage. She's busy and can use some help knowing and keeping her health information. She suffers of severe food allergies
Mary the Working Mama Bear
She has a lot on her plate with work and family (children+elders) and is disorganized with her health information- stashes all in a folder and stresses out later. She missed giving her elderly mother a medication, causing her healing to stagger
The basics: Minimum Viable Product (MVP) and User Stories
User stories are very helpful in defining the MVP, because we now have a refined list of the tasks that users would potentially perform on the application. My mentor and I looked at the list together and decided which features made more sense to prioritize, all this keeping in mind the interviews, personas, empathy maps and scenarios.
See the complete spreadsheet here
I learned that it is important to keep referring to the user stories as we build the prototype. It is also good to keep referring to the personas, empathy maps and scenarios. For this project I used google spreadsheets, this application facilitated sharing, feedback, and editing.
Perparing for construction: Information architecture
I decided to do an online card sort because it was fast, easy to carry around (specially if visiting local coffee shops) easy to share with remote users, and convenient for me as a researcher to quickly get results and an accurate visualization of the data. I used Optimal Workshop for the task
I headed to my local coffee shop, bought $5 dls gift cards (Total participants, 4). I put up a sign "Free small coffee for 15 mins of your time" — it was a morning during a weekend and I got the participants I needed within a couple hours.
Participants had to pass a mini-screen: they were asked if they managed their own health records and if they used a certain kind of technology to manage their health records, and if they were fluent in english.
When completing the cardsort, most participants were able to easily understand and sort out all described features, with an average time of 4.87 min. to complete. Some of the challenges were:repeated words that meant the same thing i.e., physician and doctor.
Sketching, Wireframing and Prototyping fun!
As a visual designer and artist — I love to draw (I get the opportunity to auction my drawings for charity at MACLA…woot!) this was the part of the process I was looking forward to.
Until this point, I had only been talking about my idea/concept. Some folks that I talked to got it, but others still had a question mark hovering over their heads.
It was great to pour-out the idea inside my head onto a piece of paper. I started seeing what was missing — what made sense and what didn't. I recall being cautious starting my sketching, but once I did it, I broke the ice with the empty dot-grid and things flowed.
The moment I presented the hand-drawn screens to my mentor I saw a change: he got it, right away. I could even sense excitement. I got the same response from other viewers, they now had something tangible — they were able to quickly grasp the concept, relate to it and provide feedback or ask questions.
I was wondering if people would find value in the idea, and if they'd like it. I showed it around and was surprised to get a positive response, even from tough critics. Their interest reinforced value and purpose- it fueled my energy and passion for the idea.
Next, are the hand drawn sketches. I used a dot pad and some markers. They were made in less than an hour. Questions and ideas started to surface in regard to the interaction, security, and information architecture.
Making the prototype digital
After sketching out the screens and interaction, my mentor and I decided I could start building the digital version. We decided to use Marvel, for rapid protoyping — I was completely new to the tool — but was able to pick it up fairly easy due to its intuitive, minimal interface. This was helpful, because it limited the amount of visual embellishment options, focusing on the usability/ interaction.
Marvel adds a ton of value because it provides a set of ready-to-use screens for either Android or iOS. That way the designer doesn't have to focus on the style guide/ design system too much and we can jump right into the interaction and build a working draft/prototype of the product that can be tested.
Here, I learned to check myself once more: I wanted the prototype to convey the product's interaction as accurately as possible and to minimize dead ends- to see the product as close to finished as possible (aaalive! in a Dr. Frankenstein voice :P), it was tempting to think of more features, but I reminded myself to write ideas down, and only build the basics for the tasks that we carved out from our research, so that the tasks could be ready to be tested.
Note that the prototype is for testing purposes only and based on a set of tasks (from our MVP) that we wanted our testers to perform. It is not a polished, hi-fi prototype, that is being built)
Link to Entir prototype in Marvel

Please note that this is not a hi-fi prototype, but a quick prototype for testing purposes only
Usability testing: In Nike's words…Just do it
The prototype was a bit rough but mostly there. I was wondering if people would navigate it with ease: Would they like it? What if they don't? I think that it's a great idea…This is where breaking the ice with a friend helps- I reached out to my friends to start talking about the product.
Armed with a brief introduction of the product and a small list of tasks, I broke the ice to testing and put the prototype in someone's hands. Best thing ever because I got to observe someone using the prototype, and immediately observe which areas had ease-of-use and which areas had challenges. I now had feedback to apply to the product.
The first 3 testing sessions were key to ironing out many of the little kinks in the app- dead ends, missing/odd links, if the information made sense the way it was laid out, also perfecting the interview script*, and helping me see if people went to the hamburger menu (inactive at this point) vs. a menu I had placed under the profile picture. They went for the hamburger menu like it was a free giant cheeseburger, with zero calories.
Lesson learned — Getting participants: Know the pond you're fishing at
I decided to run usability testing in the middle of the week at my local coffee shop: it has a good mix of parents, students and professionals. My tools: a laptop, a brief screeneer, a research script with key tasks, a hand-sketched sign: "Free sm. Coffee for 15 mins of your time", and a few gift cards. I placed my sign on a table and sat there…and waited….and waited…
Weekend vs. middle-o-the-week people (in the SF Bay Area). I thought finding participants would be similar as my earlier weekend-research but I was wrong. In this case, testing in the middle of the week yielded less people willing to engage.
Testing learnings
Check that you aren't leading your participants…it sounds easy, but there are many ways to do it. For me, it was resisting the urge to help participants- one of my testers was an elderly gentleman. He had a calm way of completing the tasks, and I caught myself thinking: let me help him out …but instead, I was patient, and in the end, he was able to figure things out.
Good to avoid using word-for-word naming when speaking out the tasks. This can also be leading, it's better to use slightly different words than the ones used in the app.
In the end, it was a rewarding experience to chat with real people, and seeing them interact with the product- it gave me insights I wouldn't have been able to figure out myself, to mention a few:
90% of users tended to go for the hamburger menu vs other menus.

Participants wanting to be able to see their medical "homework" or "treatment plan/ medical next steps".

A participant who thought the "main profiles page" was confusing and unnecessary.

A person suggesting to add a "reason for call/symptoms" textbox before requesting to call a nurse.
It is a continuous process, and we will keep testing and improving the product.In the future, the app could help visualize and interpret a patient's data and create a clear view of a person's present status and future trends — unveiling patterns and predicting health outcomes.
It was great to take this joruney and experience the strong value of the UX process: a user-centric and lean approach. Talking with users, conducting research, and usability testing were some of the most valuable and enjoyable parts of the process. Great to see how much can be done and learned with little. Experiencing the fact that it is good to stay curious and creative, to ask questions and be humble. And that regardless of percieved wins or losses you will strike gold in what you have learned.
This is a Work in Progress, there is more coming! I am creating a high fidelity prototype in Adobe XD…keep an eye out!
If you have any questions, comments, or just want to say hi, please connect!